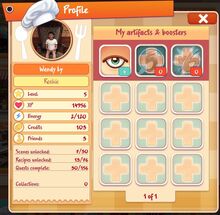 Profile is a feature. It has the statistics, artifacts and boosters stored in your profile. If you want to add artifacts, click the + button. This will lead you to the store.
Name: the name of your Facebook account.
Rank: the rank of your player's title. Level up to get a new title.
Level: the player's level gained in My Kitchen.
XP: the amount of experience gained. Play more/complete quests to gain experience.
Energy: the amount of energy in the player's balance (Current/Max). When you play a scene, you'll spend 20 energy.
Credits: the amount of credits in the player's balance. Leveling up or completing invitation quests can receive credits.
Friends: the number of friends joined the game.
Scenes unlocked: the number of scenes unlocked in your player.
Recipes unlocked: the number of recipes cooked in your player's cookbook.
Quests complete: the number of quests completed in your player.
Collections: not identified yet.
Artifacts & boosters
Edit
Boosters and artifacts stored in your player.