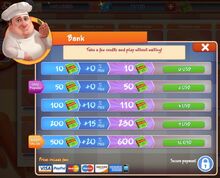 Credits are in-game currency which can be used to buy items. You can get credits by leveling up.
Using credits
Edit
Credits are a usable currency. You can spend them on:
Boosters (helpful through the gameplay)
Extra Time (if your time runs out)
Artifacts (Useful to get XP, faster leveling up)
Snacks (in case you're out of energy)
Items (to complete quests immediately, does not affect on recipes)
Earning credits
Edit
You can also get by:
Leveling up (rewards you 3 credits + 3 per level and so on)
Completing invitation quests (gives you a gift and XP)
Visit 5 days in a row.
Earning achievements.
Purchasing credits (at a range of 10-600).
Prices can be at:
10 for 0.99 USD
50 for 2.99 USD
110 for 4.99 USD
230 for 9.99 USD
600 for 16.99 USD